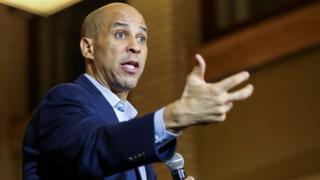 US Democratic presidential candidate Cory Booker has announced he is ending his campaign after disappointing poll numbers.
The New Jersey senator had failed to qualify for the Democratic debate on Tuesday in Iowa.
Mr Booker had been touted as a rising star of his party, but was unable to garner enough support in a crowded field.
There are now 12 remaining Democrats in the race for the White House.
"Today I'm suspending my campaign for president with the same spirit with which it began," Mr Booker said in a video announcing the end of his campaign.
"It is my faith in us, my faith in us together as a nation. We share a common pain and common problems that can only be solved with a common purpose and a sense of common cause."
Mr Booker polled an average of 2% nationally, according to RealClearPolitics data, while front-runners Joe Biden and Bernie Sanders have been polling at 29% and 20% on average respectively.
He was also unable to match his competitors in fundraising; Politico reported he raised only $6m (£4.6m) as of October 2019 data, far less than Mr Sanders, Mr Biden and fellow senator Elizabeth Warren.
Fellow Democratic contender Marianne Williamson quit the race at the weekend, while Julian Castro, who was the only Hispanic in the field, dropped out of the race earlier this month.
Most of the remaining Democratic candidates are male and white, which is provoking criticism for a party that prides itself on diversity.
Six Democratic White House hopefuls will take to the stage for a televised debate on Tuesday in Iowa. All of them are white; one is a woman.
Of the remaining contenders, only Asian-American Andrew Yang and Deval Patrick are not white.
The Washington Post recently ran a column saying that the Democrats "are starting to look like a 'Whites only' party".